Bear71
Title: Bear71
Status: 2012
Type of Project: Interactive Documentary and Traveling Immersive Installation
My Role: Installation Co-Creator, Experience Designer and Social Narrative Architect
Project Description: BEAR 71 is a rich interactive project, installation and social narrative that at the heart of it all features a 20 minute interactive documentary that raises awareness about the intersection of animals, humans and technology.
This multi-user experience launched alongside an installation at the Sundance festival entitled "Bear 71 Live". The narrative follows the real life of a female grizzly bear in Canada's Banff National Park from the moment she is tagged and collared by park rangers to the moment of her untimely death.The story is narrated by Mia Kirshner from the bear's perspective, but users witness it through real footage collected from over 1 million photos take by motion triggered cameras that encompass the park.
The NFB approached Lance to create an immersive experience to bridge the digital and real world. The experience utilized facial recognition, augmented reality, motion sensors and surveillance cameras to turn festival goers into animals who roamed Sundance.
Press: Wired Magazine, The Next Web, Mclean's, PBS
Awards
Winner Golden Cyber Lion Award
FWA Site Of The Year 2012 (Favorite Website Awards, 2012)
NetArt winner (Webby Awards, 2013)
Best Web Series: Non-Fiction (Digi Awards, 2012)
Stats:
Official Selection Sundance Film Festival,
Re-released as a VR experience
Official Site: Bear71

Overview of Bear71

Bear71 at Sundance
Originally published by
Bear 71 is tough to explain in one breath. It helps to just dive into the 20-minute interactive film online and be enveloped by the moving pieces. There's a navigable grid; video clips intermittently take over the full screen; your webcam monitors you. And there's a narrator, the eponymous bear given a somber human voice, that holds it all together.
"Everyone I've talked to who's experienced it is at the same time kind of in awe and sad and somewhat creeped out—I think that's good," says Bear 71 co-creator Leanne Allison. "For me, it's a success if people want to shut down their computers and go crawl under a tree for a while." And while the documentarian remains in sync with her environmentalist roots, she quickly came to the idea of merging the story of Bear 71, a radio-collared grizzly closely monitored from 2001 to 2009, with a parable for a tech-dominated society.
The National Film Board of Canada project recently debuted as an unmissable installation at Sundance Film Festival's New Frontier Pavilion. The final product makes much of the overlap between the "wired world and the wild world." The interactive film follows the fate of a grizzly as it moves through Banff National Park in Alberta, a once-wild area now being encroached upon by human development. An anecdote two minutes into the film goes: "A pine needle fell in the forest. The eagle saw it fall. The deer heard it. The bear smelled it. And after the pine needle hit the ground, Google made the information instantly available worldwide."
Allison was struck by the uniqueness of Alberta's nearby Banff National Park being the most world's developed location where grizzly bears continue to reside. "I spent a lot of time thinking about what it's like for them to deal with the kind of maze we've created for them with the highways, the train, the trails, town developments," she says.
Allison's first film was 2004's NFB project Being Caribou, featuring her and her Banff park ranger husband, the impossibly masculinely named Karsten Heuer. Armed with that experience (and a Gemini Award earned for it), Allison homed in on Bear 71's life, beginning with millions of low-resolution wildlife photographs taken from motion-triggered trail cameras within Banff.
"Bear 71 was essentially watched every day of her life, so there was a tremendous amount known about her," Allison says. "There was the potential to tell the story in a different way." That's where the NFB's digital studio came in.
Loc Dao, the NFB's creative studio head and executive producer of Bear 71, likened the experience of Banff's wildlife to a new mainstay for urban humans: Being captured by surveillance cameras constantly, in public places like convenience stores and parking lots and elevators. "We knew there was a bigger story around technology and surveillance that really fit in here," Dao says.
Telling the tale from the monitored bear's point of view highlighted this parallel. Another step was pointing users' webcams at themselves: "The idea was to create this moment of realization you've been watched the whole time, the same way we watch the animals in the story," Dao says. "We live in a world of cameras now, and we've come to accept that. That's one of the things we definitely question by making the user feel uncomfortable."
A defining feature of Bear 71 is its choice to eschew gorgeous nature photography—a staple of wildlife documentaries—in favor of a rich interactive grid. Vancouver artist and Webby Award-winner Jeremy Mendes trekked hundreds of miles to Banff to hike with Allison and brainstorm. "We knew we would roam around in some kind of world [in Bear 71], and Jeremy came up with the idea of it having to be completely technological, and it couldn't be something that looked like the landscape or a map," Allison says.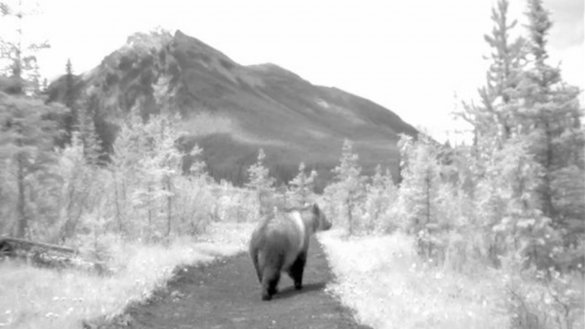 "We saw all the data that was being collected by Parks Canada and we made this connection between how we were surveilling animals and how we like to classify things in databases and live in a world of data visualization," Dao says. "It was that concept of how we see the world through the lens of technology that lead us to coming up with this grid as how we see the world in that valley, and also as a metaphor of how we see the world in general."
Another big metaphor was the physical tree brought from Banff to Sundance. "We made it look like something called a rub tree," Allison says. "Pretty much every animal in the forest, when they pass one of these trees, will check them out. To me that's like the antithesis of the way we're all communicating through technology. It's the kind of subtle knowledge that we're losing—at one time we would have had to understand all those subtle signs and ways of communicating, this language in the forest." Dao chimes in: "It's the irony of how we've replaced that with Facebook and Foursquare, with check-ins and status updates."
But the Bear 71 team won't condemn social media as any kind of wholesale dumbing-down. The film has a Twitter account and a well-implemented Tumblr, both indicators that this crew has an eye toward innovative connectivity.
"We started conceiving what we called a social narrative for this project instead of doing just the traditional social media outreach," Dao says. "There these 4×6 cards at Sundance with collectible animals from the story on them. The back has a URL on it and a QR code where if you scan it, you end up on our microsite, where you role-play and choose an animal that represents the inner animal within you."
All the layers of Bear 71 are in service of the story. It's an added bonus that the media-savviness at play could give the project a life beyond the 20 minutes it takes to watch. "The intended order is to experience the interactive project first, and then interact on these ongoing social narratives. They pick up from when the project launched and keep going from there," Dao says.
Bear 71 is now at the Utah Museum of Contemporary Art until May, set up in a similar fashion to the Sundance installation. The film's team is plotting participation in upcoming technology and interactivity conferences, including a panel at South by Southwest.